About

Windows 7 (formerly known as Blackcomb and Vienna) is the working name for the next major version of Microsoft Windows as the successor to Windows Vista.Microsoft has announced that it is "scoping Windows 7 development to a three-year timeframe", and that "the specific release date will ultimately be determined by meeting the quality bar."Windows 7 is expected to be released by 2009 or near January 2010.The client versions of Windows 7 will ship in both 32-bit and 64-bit versions. A server variant, codenamed Windows Server 7, is also under development.
Microsoft is maintaining a policy of silence concerning discussion of plans and aspirations for Windows 7 as they focus on the release and marketing of Windows Vista,though some early details of various core operating system features have emerged. As a result, little is known about the feature set, though public presentations from company officials have disseminated information about some features. Leaked information from people to whom Milestone 1 (M1) of Windows 7 was shipped also provides some insight into the feature set.
History
In about 2000 Microsoft started the planning to follow up Windows XP and its server counterpart Windows Server 2003 (both codenamed Whistler) with a major new release of Windows that was codenamed Blackcomb (both codenames refer to the Whistler-Blackcomb resort). This new version was at that time scheduled for a 2005 release.
Major features were planned for Blackcomb, including an emphasis on searching and querying data and an advanced storage system named WinFS to enable such scenarios. In this context, a feature mentioned by Bill Gates for Blackcomb was "a pervasive typing line that will recognize the sentence that [the user is] typing in."
Later Blackcomb was delayed and an interim minor release, codenamed "Longhorn", was announced for a 2003 release.By the middle of 2003, however, Longhorn had acquired some of the features originally intended for Blackcomb, including WinFS, the Desktop Window Manager, and new versions of system components built on the .NET Framework. After the 2003 "Summer of Worms", where three major viruses -- Blaster, Sobig, and Welchia -- exploited flaws in Windows operating systems within a short time period, Microsoft changed their development priorities, putting some of Longhorn's major development work on hold in order to develop new service packs for Windows XP and Windows Server 2003 that included a number of new security and safety features. Development of Longhorn was also "reset" in September 2004 as a result of concerns about the quality of code that was being introduced to the operating system. The eventual result of this was that WinFS, the Next Generation Secure Computing Base, and other features seen in Longhorn builds were deemed "not ready" for wide release, and as such did not appear in Longhorn, when it was released as Windows Vista and Windows Server 2008.
As major feature work on Windows Vista wound down in early 2006, Blackcomb was renamed Vienna. However, following the release of Windows Vista, it was confirmed by Microsoft on July 20, 2007 that "the internal name for the next version of the Windows Client OS"is Windows 7, a name that had been reported by some sources months before.
Milestones
According to TG Daily article of January 16, 2008, the Milestone 2 (M2) code drop was at that time scheduled for April or May of 2008.User interface appearance changes are expected to appear in later builds of Windows 7.
Milestone 3 (M3) is listed as coming in the third quarter, with the release to manufacturing in the second half of 2009. The release dates of a beta version and a release candidate are "to be determined".
Bill Gates commented in a press conference in April 2008 that a new version [of Windows] would come "in the next year or so".According to additional clarification by Microsoft, he was only referring to availability of alpha or beta versions of Windows 7.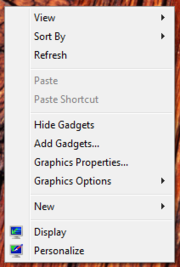 (Desktop context menu showing the return of the Display Properties icon (previously removed in Vista) and new options for Gadgets.)
Virtual hard disk
On May 21, 2008, Microsoft posted a job opening for Windows 7 regarding work to implement VHD support, i.e. support for single-file containers that represent an entire hard drive including partitions, and transparently performing I/O operations on this as a typical hard drive, including boot support."
In Windows 7, our team will be responsible for creating, mounting, performing I/O on, and dismounting VHDs (virtual hard disks) natively. Imagine being able to mount a VHD on any Windows machine, do some offline servicing and then boot from that same VHD. Or perhaps, taking an existing VHD you currently use within Virtual Server and boost performance by booting natively from it.
-Mohammed Alim
Edited by Alim93, 01 July 2008 - 03:20 PM.